Ike Wynn and Larry Mathis began singing together in the Seventies, and by Century's end had each or both sung with so many groups that when they formed their own in 1997, they labeled it with the initials UAD, for Uplites, Avatar and Destiny, to commemorate some of their past experiences. Harmonies, choreographed dance steps and highly stylized matching outfits profiled UAD in line with the tradition of Seventies Motown r'n'b groups like the Temptations, Impressions and Stylistics. Holding forth in Jubilee Park, Clinton and Hanover squares and a range of area clubs, UAD became best known for an annual ritual celebration of Mother's Day. After a year off, Wynn and Mathis will revive the tradition Saturday, May 12, at the Palace Theater, but with a new twist.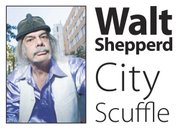 "As musicians," Mathis reflects on his soul oriented generation, "we play together all the time. So I was thinking more in the line of a family thing this time. Basically, people I've sung with are in different groups now. But singing together nobody really gets a chance to show what they've got. So Ike and I came up with the concept of featuring the guys. Most of them have been singing for over 30 years, so this gives us a chance to be a family." With their throwback style, and what Mathis calls "music that pierces your soul," the group's traditional concert audiences have been predominated by older people of color. But at a recent gig both producers were buoyed to see their grandsons bustin' moves to their notes.
Best dressed female wins $75
Although Brownskin with special guests Donnah Alford and Even Knight are billed as the featured performers for this year's Mother's Day bash, Mathis says the show's real focus is to spotlight the male soloists listed on the poster, for those in the know, as Isaac W, Saul B, Mike W, XL, Seth M, Greg C, Mike Y, Paul L and Rick L (not related), Darryl B and Busty B (also not related), and Larry M. The evening will be hosted by MC extraordinaire Julius Edwards, newly appointed director of the Dunbar Center, which will receive a portion of the proceeds from ticket sales. A portion will also go to produce the opener of this summer's Jubilee Park Sunday series June 17, which, Mathis notes, is also Juneteenth and Father's Day.
(Continued on Next Page)
Prev Next
Vote on this Story by clicking on the Icon