North Syracuse — Robert Crabtree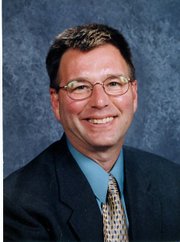 Biographical information:
A 27-year resident, I retired in June 2007, having taught elementary school for 36 years in the North Syracuse Central School District. During my tenure I was honored with the 1988 North Syracuse Teacher of the Year, STANYS Excellence in Science Teaching Award, Technology Club of Syracuse 1991 Outstanding Teacher Award and the Post Standard Golden Apple Award. The creative and innovative programs in my classroom led to me being recognized with three New York Assembly resolutions. At the age of 62, I continue to be involved in my community as a volunteer including: Meals on Wheels, Immanuel Lutheran Church, Greater North Syracuse Chamber of Commerce, C-NS Optimist Club, and the North Syracuse Dollars for Scholars. They are all organizations that I volunteer for and are actively involved in. My favorite volunteer programs are the ones where I am working with the youth of the community. Presently I am mentoring C-NS High School students, tutoring Roxboro Road Elementary School kindergartners, and being an advisor for the C-NS High School Optimist Club.
Why are you running for the school board?
As a North Syracuse Board of Education member, I will have the ability to work with eight other team players with the charge of managing the school district affairs, personnel, and ensuring the safety of all. As a Board of Education member I will be able to participate in establishing the rules that affect the success of our district.
The North Syracuse community deserves to have the best education provided for their students where each student receives quality education. Presently we have a Board of Education that contains many different backgrounds of our community. For the last three years my participation on this school board has brought another community piece to the puzzle. The students are our future and we need a spokesperson for them.
(Continued on Next Page)
Prev Next
Vote on this Story by clicking on the Icon