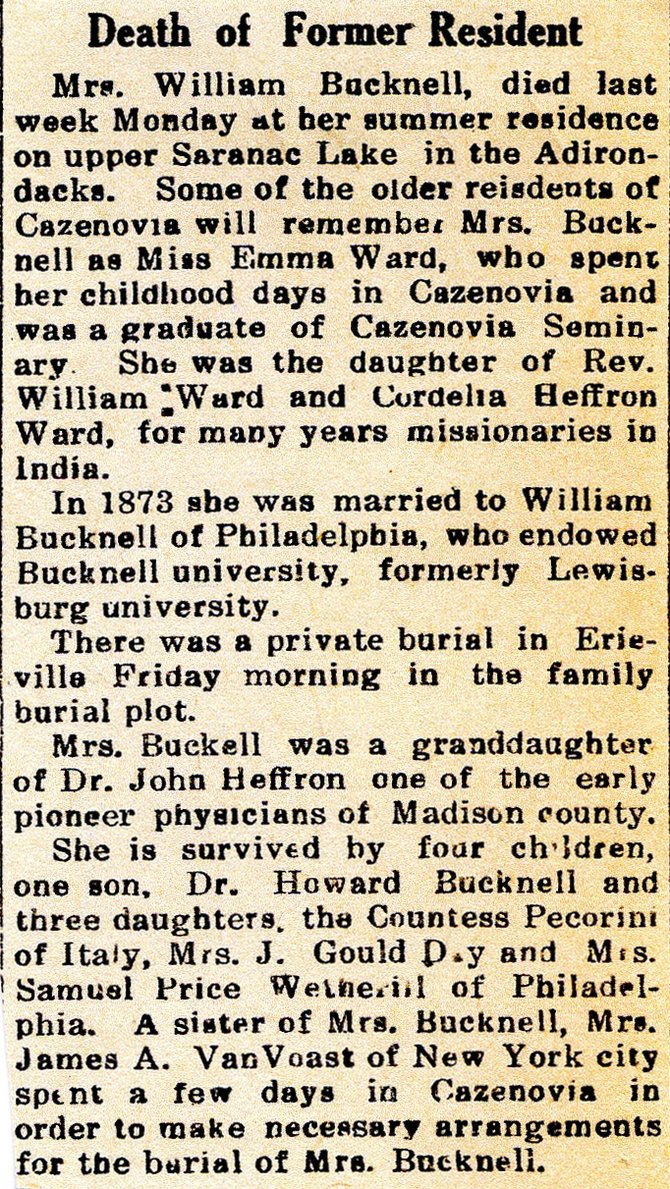 A recent piece on "NBC Nightly News" featured an interview with Katherine Bucknell, who discussed her ancestor, a survivor of the R.M.S Titanic disaster 100 years ago.
That survivor was Emma Ward Bucknell.
Emma was born in India in 1853 to William and Cordelia Ward, who were missionaries of the Baptist Church. Cordelia was born in Erieville in 1824, a daughter of Dr. John Heffron, the area's first resident physician. She graduated from the Cazenovia Seminary in 1842, met then married William Ward in 1850. Ward, a graduate of Madison University (now known as Colgate) received a degree in divinity and moved to India with Cordelia.
After a few years of serving in India, the couple were furloughed back to Central New York, were William was given a pastorate in Wellsville. Cordelia passed away in 1859 and was sent to Erieville for burial.
William quickly remarried and returned to his work in India. Emma, then six years old, was sent to live with her aunt, Maria Goodell, in Cazenovia. Emma grew up and attended Cazenovia Seminary, as her mother had.
When she was about 17 years old, William was again furloughed and this time took his family to Beverly, N.J., to preach and solicit funds for his missionary work.
It was there he met William Bucknell, a wealthy benefactor of Baptist causes, so much that Lewisburg University in Pennsylvania changed its named to Bucknell.
After loosing his second wife, Bucknell decided to remarry and began to court Emma – even though she was 40 years his junior.
He tried to convince her and her father he would make a good husband. Emma finally consented, and the two were married around 1871. It was sort of a quid-pro-quo where William Ward, now being more financially secure, went back to continue his work in India.
(Continued on Next Page)
Prev Next
Vote on this Story by clicking on the Icon