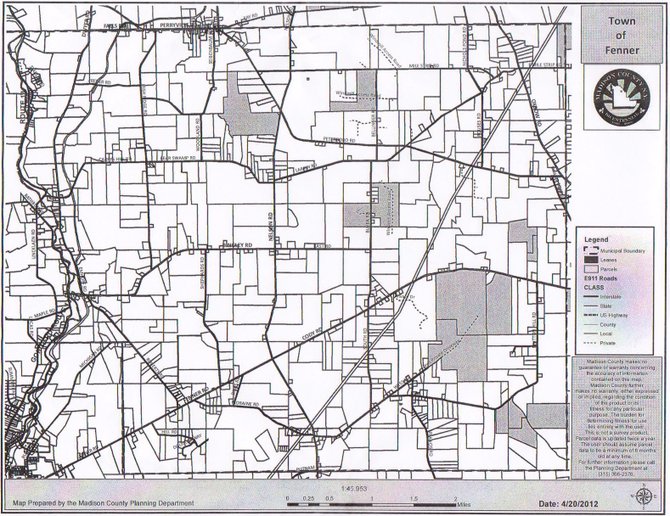 The only way for property owners to refuse hydrofracking under their land is if the municipality has banned hydrofracking.
Nelson Town Supervisor Roger Bradstreet spoke briefly, sharing that he is the chairman of the 11-member Madison County Natural Gas Development Working Group, which has been studying hydrofracking for about two years.
Bradstreet said the committee is neither for nor against hydrofracking, but was formed and serves to ensure the health and well-being of Madison County residents and environment. "I'm trying to keep the needle in the middle here," he said.
Bradstreet said one thing the committee has been working on is trying to get the state to approve a measure that would increase the 60 percent well space unit ownership to 80 percent. He said they're also trying to increase the profit for landowners who are in leases with hydrofracking companies.
Husband and wife Phil Rose and Beth Broadway started the group, after noticing that their property was nearly surrounded by leases totalling approximately 600 acres.
"Our first meeting was about 20 people, neighbors, who just wanted to talk about this," Broadway said.
Broadway urged Fenner residents to attend upcoming town board meetings and speak their minds on the issue. She said she hopes the board will enact a one-year moratorium on hydrofracking, following the neighboring town of Lincoln.
"I think there's a growing sense to be careful, that we don't want to rush into any of this," Broadway said.
The next Fenner Town Board meeting will be at 8 p.m. May 9.
For more information on the Fenner Neighbors Group, contact Rose and Broadway at FennerNeighborhoodGroup@gmail.com.
Elizabeth L. Pratt is an area resident and freelance journalist. She can be reached through the editor at editor@cazenoviarepublican.com.
Vote on this Story by clicking on the Icon
More like this story