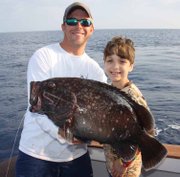 On their return to Skaneateles from a recent trip to Hawaii, Massimo and Bella Capozza, ages 10 and 11 respectively, both brought back stories about catching a big fish — but not just any fish. Fish that were bigger than they were.
Massimo caught a 65-pound amberjack and Bella a six-foot reef shark.
While the Capozza family was vacationing in Hawaii, father Rick Capozza chartered a fishing trip with Captain Kevin Nakamaru and First Mate Matt Bowman of Northern Lights Fishing Charter out of Kona.

The day immediately started well when, as they left the harbor, they all saw a humpback whale do a full breach a couple hundred yards behind the boat. The group started their trip by catching bait fish called "opelu," also called "cigar fish," which only bite right before the sun rises.
The first big fish of the trip was a 25-pound rare Hawaiian hapupu grouper, caught by Massimo from a depth of about 500 feet. Captain Nakamaru, who is a world-renowned marlin fisherman, told Massimo that it's been several years since he's even seen a hapupu grouper. They could not throw the fish back, however, because of the effects of the pressure from bringing it up from so deep. So the family gave it to the captain, who said it was one of the best eating fish you could catch.
After fighting the hapupu, just when he thought his arms were too tired to reel in another big fish, Massimo then caught and managed to pull in a 52-inch, 65-pound amberjack fish — which weighed more than Massimo himself.
"I had my heart set on a catching a mahi mahi [or 'dolphin fish']," Massimo said, "but I am ok with the big amberjack."
Not to be outdone by her younger brother, Bella Capozza had her own memorable event of the trip when she caught a six-foot gray reef shark. Her father caught the fight on video, but, unfortunately, when Bella got her catch to the boat and her father went to grab the still camera, the shark broke off her line before Rick Capozza got the picture.
"Even though it only took 20 minutes to reel my shark in, it felt like a million years!" Bella said.
And as Bella was reeling her shark, Massimo told her, "Hey, Bella, if you're getting tired, I'll reel it in for you."
Needless to say, Massimo and Bella are anxious to return to Hawaii for more fishing, as are their three siblings, who look forward to beating Massimo's record catch.
Here's the video of Bella reeling in her shark:
Vote on this Story by clicking on the Icon