Cazenovia — With a high-charged regular-season homestretch looming, the Cazenovia boys lacrosse team is finding its top form on both ends of the field.
That was quite evident in Tuesday's game against LaFayette at the Sean Googin Sports Complex, where the state Class C no. 1-ranked Lakers smashed through the Lancers in a 17-3 rout.
They had first played April 19, at LaFayette, a high-scoring affair that Cazenovia pulled out 16-13, the most goals the Lakers had allowed in any game this season.
Remembering that, Cazenovia's defense started to lock down LaFayette in the second quarter of the rematch after the two sides were tied 2-2 early.
Clayton Goris, Barclay Talbot, Doyle Judge and Mike Nourse teamed up to slow down and shut off all of the Lancers' options, entirely shutting them out in the second half. When shots did reach the net, Trevor Cross scooped them up, earning eight saves before Jay Hahn (who made two saves of his own) took over late.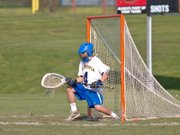 By then, Cazenovia had decided matters. A 4-1 spurt through the second period created a 6-3 halftime margin, but the Lakers saved its best work for the third period, burying LaFayette with seven unanswered goals.
Again, Ryan Cook and Connor Cannizzaro mirrored each other in production, as Cook posted five goals and five assists and Cannizzaro also scored five times, adding four assists.
Brad Nardella was big, too, picking up four goals and adding an assist. Henry Mann stepped in with two goals and one assist as Alex Sullivan got the other goal. Goris, Matt Donovan and Alan Baldwin picked up assists.
Still at home on Thursday afternoon, Cazenovia had a more modest effort against Westhill, but still whipped the Warriors by a comfortable 12-5 margin for its 30th consecutive win.
Really, the first quarter decided matters. The Lakers, shredding Westhill's defense, built an 8-1 margin, and while that pace could not be maintained, Cazenovia's defense made sure the Warriors never got close, Cross stopping 11 of the 16 shots he faced.
(Continued on Next Page)
Prev Next
Vote on this Story by clicking on the Icon