Before our recollection of our remarkably warm winter melts totally away, let's reflect on our relative lack of snow over the winter of 2011-12.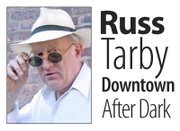 My friend, Craig Smith, runs a snow-plowing operation. As owner of Yardsmith Groundskeepers, 308 Burnet Ave., in Syracuse, he profited handsomely this winter even though his customers rarely needed their driveways cleared.
"About 98 percent of my clients paid a fixed price for the winter," Craig told me. "Nobody got upset about paying, though I'm still trying to collect from a few clients."
Craig compares his seasonal contracts to an insurance policy.
"In a way, you know, our contracts are like insurance in that you pay for protection that you may not need," he said.
Snow no, grass yes
On the other hand, the March heat wave has put Yardsmith behind the eight ball.
"The lawns have sprouted up so that we've begun mowing two weeks earlier than normal," he said. "And, yes, most of my lawn clients pay a fixed price for the mowing season."
Though the mowing contracts stipulate mid-April as the starting point, Craig couldn't let things go any longer without taking a whack at the growing grass.
In any case, Craig celebrates spring.
"Personally, the snow season to me, I dread more than anything," he said, "but I look forward to the lawn season, the green season, much more."
Springtime blizzard
Meanwhile, winter reared its ugly head again just last week, more than a month into the season of spring. I saw more than a few snow pellets in the air here, and our neighbors in Ithaca were blanketed by a solid six inches of the white stuff. OK. Enough's enough.
Godzilla at ABS?
At the end of April, former N.Y. Yankees outfielder Hideki Matsui was preparing to sign a contract with the Tampa Bay Rays, who planned to assign him to the International League's Durham Bulls in order to get into playing shape.
(Continued on Next Page)
Prev Next
Vote on this Story by clicking on the Icon