Each spring, as the wildlife becomes more active, it is a good time for us all to keep in mind the danger of rabies and make sure our pets are current on their rabies vaccination.

Rabies is a virus transmitted most commonly via bite wounds, but also through contact of infected saliva with any mucus membrane (eyes, mouth) or wound. All mammals, including humans, can contract rabies.
When a person is exposed to the virus, prompt treatment is critical. When untreated, rabies will invariably result in death.
Fortunately, the rabies vaccination is safe and effective. Keeping our pets vaccinated is crucial for keeping the human population protected against this deadly virus.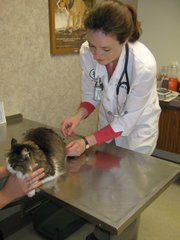 Animals most commonly associated with spread of the virus are skunks, raccoons, bats, foxes and stray cats. Rabid animals will not behave normally. Most of us have heard of the classic "mad dog" signs, but some rabid animals can become overly "friendly" as well. Other signs can be very subtle such as depression or itching at the site of exposure.
As the disease progresses, neurologic abnormalities can be seen, along with drooling due to the inability to swallow. Once these later stages develop, there is no treatment and death soon follows.
Unfortunately, rabies remains present in our region, with numerous cases reported in Madison County within the past year. According to the Madison County Health Department website, cats have tested positive for rabies more often than dogs.
Public health law requires all cats, dogs and ferrets be vaccinated by four months of age and kept up-to-date with booster vaccinations. Cats that remain indoors are not excluded from this law because bats can easily gain access indoors or a cat can simply escape outdoors accidentally.
For most of us, it is hard to imagine our normally loving cat or dog biting another animal or person. But no matter how friendly your pet is, any animal may bite in self-defense if frightened or threatened.

(Continued on Next Page)
Prev Next
Vote on this Story by clicking on the Icon