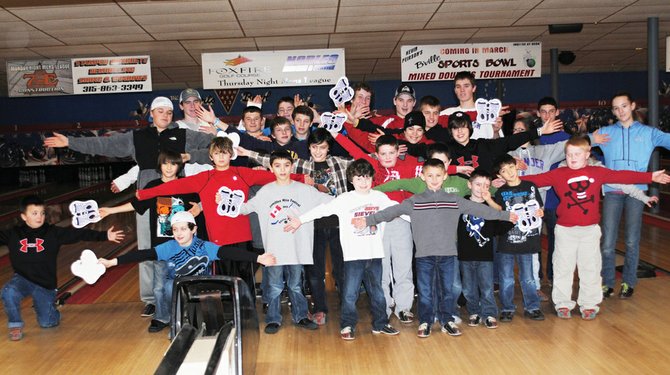 Baldwinsville — Members of the Lysander Youth Hockey Association, which plans to put together a team for this year's Paige's Butterfly Run, held a Bowl a Thon fundraiser Feb. 20 at the Sports Bowl in Baldwinsville to raise money for their team. Forty-four bowlers raised $825 for the team, which will be made up of hockey players from all levels with the ages ranging from 5 to 15 years old.
A few of the players have family members currently going through treatments for cancer including 13-year-old Ryan Constance, of Baldwinsville, who is a Lysander Bantam Travel Hockey Player. Constance participated in honor of his mom, Wendy Constance, who is currently battling cancer. Stories like Ryan's and Wendy's have served as the inspiration needed to form a team.
"Being involved with Paige's Butterfly Run will prove to be a positive outlet for all the kids to help make a difference right here in our community and have fun while they're doing it," said Susan Bertrand, who helped organize the event. "Hopefully this can encourage others to form teams as well."
To learn more about Paige's Butterfly Run, or to form at team for this year's June 2 event held in Syracuse, visit paigesbutterflyrun.org.
Vote on this Story by clicking on the Icon