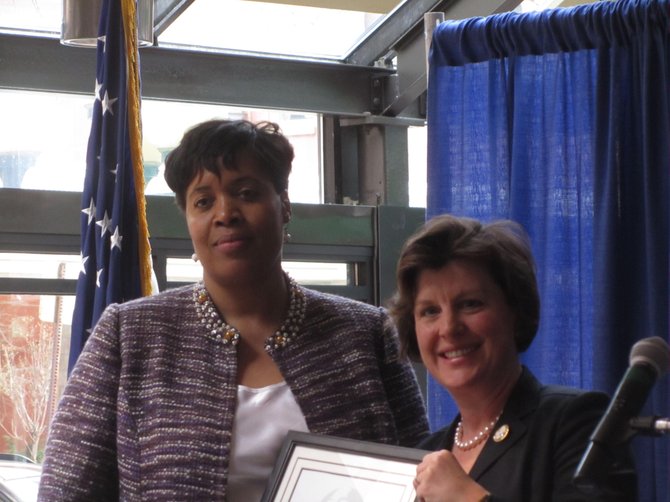 SYRACUSE — The Syracuse Commission for Women presented its Woman of the Year Award to Linda Donalson Hicks on Wednesday at the Sustainability Center.
Syracuse Mayor Stephanie A. Miner was on-hand to speak and present the award to Donalson, who was nominated by friend Marett Seymour.
"She is a role model not to just the families and youth she serves but also her co-workers and all those around her," Seymour said when she nominated Donalson. "Linda has touched many people's lives without ever knowing the impact she made on them. … I believe she is a true unsung heroine in the Syracuse community."
Donalson was chosen out of a pool of nine nominees. The Woman of the Year Award is: "Presented to an unsung heroine who has made a difference in her community, who has acted as a role model for other women, and who has otherwise enhanced the lives of the citizens of the City of Syracuse."
The other nominees were Sister Dolores Bush, Sister James Peter Riggeo, Margaret Charters, Lisa Chelenza, Veronica Clanton, Daryl Files, Michelle Walker and Deborah Ann Willis.
Born in in Syracuse in 1963, Donalson is a graduate of Nottingham High School, a place she explored her love of basketball by playing on the girls' team. Since 1999, she has worked for the Onondaga County Probation Department, and currently is a probation officer for juvenile offenders. She also is a volunteer basketball coach with the Youth Enrichment Opportunity Program, the Valley Junior Athletic Association and the Salt City Shakers. If that wasn't enough, she's also a choir singer at Bellgrove Missionary Baptist Church.
In 2002, her infant son passed away, causing Donalson a great amount of grief.
"I was a broken woman in 2002," she said in an emotional speech at the award ceremony. "My family and friends rallied around me and supported my depression and my mood-having self."
(Continued on Next Page)
Prev Next
Vote on this Story by clicking on the Icon