Baldwinsville — Research & Marketing Strategies, of Baldwinsville, has added Michele Treinin to the staff as a RMS healthcare analyst.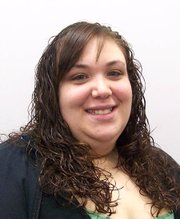 In her role, Treinin works with the RMS Healthcare division team researching and analyzing survey and claims data, creating monthly reports. Treinin also aids in satisfaction data sampling and survey distribution related to the CMS CAHPS® survey, and other related projects.
"I've always been interested in working for a market research firm and RMS provides local, reputable services that make it a great company to work for," Treinin said. "The staff is great and they made me feel at home from the moment I walked in for an interview."
Treinin has a B.S. in Innovation and Entrepreneurship with a minor in Project Management from Clarkson University. She also has a M.S. in Information and Communication Technology with a concentration in Organizational Performance, Leadership and Technology. Treinin has demonstrated leadership skills in previous positions, which she brings to RMS, as well as a background in marketing and data analysis. She will use these skills to assist RMS' healthcare clients in their strategic decision-making.
A member of Theta Phi Alpha, a national sorority that supports philanthropy, fundraising and community events, Treinin resides in Syracuse.
Vote on this Story by clicking on the Icon