Crystal Collette has a full-time job as Education and Outreach Manager at Planned Parenthood, but she recently took on a role that she knows will require the energy for a second full-time effort. She threw her hat in the ring for chair of the newly legislated Citizen Review Board, and was elected by her colleagues.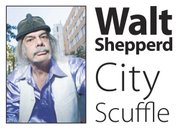 "Common Councilor Jean Kessner and I had done a lot of work together in the community in the past," she reflects. "Jean knew through my previous work at Vera House, that this was an issue that was very important to me, so she nominated me for the board."
The issue, accountability of the Police Department to the community, has been one of controversy locally for the past two decades. Collette thinks she has a unique perspective for her role, based on experience in community organizing and in "working with folks who have different perspectives." She is pleased with the new CRB legislation recently passed by the Common Council, and is looking forward to the board's first major task, hiring an administrator for the oversight body.
Way, way back in the day, then Common Councilor Charles Anderson proposed the original CRB concept which faced heavy opposition. Other councilors advised him to water down the proposal to get it established, indicating it could be strengthened later on, which it never was.
A hopeful difference…
"The new legislation has some real additions to it that provide for much more oversight,' Collette observes, "to make sure that we have a functioning, healthy CRB that has some ability to make things happen. It's very rare in a city of our size for the Citizen Review Board — in many other cities it's called the Civilian Review Board, an important distinction — to have actual supervisory power over their police department."
(Continued on Next Page)
Prev Next
Vote on this Story by clicking on the Icon