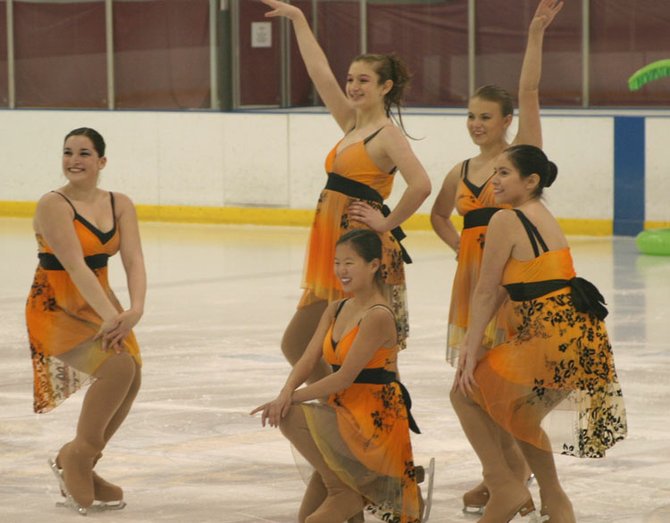 continued — "Excellent, fabulous," she said. "We're always looking to improve [our performance], but it's all about the kids."
Bentley said as long as the kids are happy and have fun, that's all that matters.
Gabriella and Isabella Capozza, two of three sisters skating in Ice Dreams, both expressed their happiness to be part of the show. "Figure skating is really fun. It's fun being in [the show] because you know everybody and you make new friends," Gabriella, age 11, said.
Isabella, age 8, expressed how supportive her coaches were and how fond she was of the costumes the skaters get to wear.
Trinity Benyon, 13, who was part of the "Georgia" and the All-Junior groups, has been skating for 11 years.
"I thought it was really good because we had to learn it within a few weeks. I like doing it because it is a way to show a job well done and it shows all your work was for something," Benyon said.
Many parents volunteer to help with the SFSC. One mother, Kathy Luce, whose daughter Brianna is in her fourth year of skating, said that she felt that their involvement in the club was important because "She absolutely sparkles. [She's] more at ease when she's on the ice, [she] loves the exercise and the socialization she gets."
Luce also said parent involvement is crucial in order to support the club and help its growth.
"It also shows the children that we're all working together as a team. It takes a village to raise a child," she said.
According to Bentley, the purpose of Ice Dreams 2012 is "to give the opportunity of our members to showcase their talents and their accomplishments during the regular skating season."
Their number one priority, said Bentley, is that the skaters have a positive experience.
Vote on this Story by clicking on the Icon