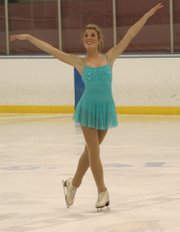 Skaneateles — The Skaneateles Figure Skating Club's Ice Dream 2012, "Road Trip—Skating Across America" showcased on Friday, March 23, and Saturday, March 24, as the end of their primary skating season. Skaters with the SFSC were able to demonstrate their skills in short performances with others of their age-group and skating levels.
The show started off with the SFSC Basic Skills Members skating to "Party in the USA," followed by two solo skates by Julie Tucker and Megan Stanford. Among the "road trip" songs were included groups skating for Oklahoma, Texas, Idaho, Mississippi, Georgia, California, Hawai'i, Las Vegas, Colorado, Chicago and of course, New York.
Among other solo skaters were Emma Glose, Allyson Petosa, Alexis Duke, Kate Osborne and Amanda Tucciarone. Michele Cooper and Tom Oberg also did an adult "swing dance" skate.
For the Las Vegas number, the staff of the SFSC skated to the amusement of the audience and the participants. Also skating were the Bluewater Blades Synchronized Skating Teams, Open Juvenile and Pre-Juvenile teams.
More than 500 seats were sold for each day of the performance as parents, friends and other community members came to support the skaters and their coaches. Audience members were pleased with Ice Dreams 2012. Margaret Baum, who had no child or friend in the show, came purely to enjoy. She said it was "excellent" and that she was "so impressed."
Christina Pietropaoli, who had friends with children in the show, said, "It's been wonderful to watch, especially the young ones. Very entertaining."
Her friend Jill Marshall, whose daughter Elsa participated, said the FSFC offers a "positive environment" and is "a great way to learn skating, lots of fun for the girls."

Robyn Bentley directed the Ice Dreams 2012 show. As a coach for more than 20 years, and having recently returned to the SFSC, she thought the show went very well both days.
(Continued on Next Page)
Prev Next
Vote on this Story by clicking on the Icon