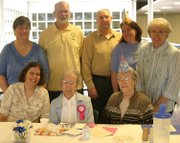 Skaneateles — Skaneateles resident Loretta Jackson turned 100 years old on Thursday, March 22. Family members and friends held a birthday party in her honor at the Skaneateles YMCA and Community Center the day before, Wednesday, March 21, during the Senior PEACE Luncheons, which Jackson attends every week.
"I'm just so excited and so happy. All my friends," Jackson said during the party. "Everyone is so friendly. Makes me feel at home."
Jackson grew up in the Red Creek/Wolcott area, and attended Auburn Hospital School. After becoming a registered nurse in 1932, Jackson worked in the Cayuga County Infirmary until retiring in 1978. Loretta married Edwin "Stanley" Jackson in 1934, and the couple settled in the Hartlot (Elbridge) area, where they raised their daughter Margaret. Loretta and Stanley were married for 48 years, staying in the area.
At the party, Jackson's neighbors remembered their times with her fondly. Wanetta Atkinson, who lived next to Jackson for more than 30 years, said that she "Always had a smile on her face and a big hello. That lady can outwork all the young people in town! She really was a wonderful neighbor."
Another neighbor, Marge Richardson, said Jackson is, "Very wonderful, very smart and always friendly. She used to come down and tell me how to plant my flowers and where to put them. Her specialty was stuffed tomatoes. They were really good!"
Jackson herself said of her century alive, "They've been good years. My family has been very close to me."
Jackson had one daughter, who passed away 10 years ago. She has two grandchildren and three great-grandchildren.
Jane Tobin, Jackson's cousin, remembered visiting her when Tobin was younger. "[I] used to go and stay with her weeks at a time for school vacation. We always had New Year's Eve parties with the family. We were always together," Tobin said.
(Continued on Next Page)
Prev Next
Vote on this Story by clicking on the Icon