Last week, I attended ECHO Meals on Wheels' annual Mayors for Meals event for the second time. And for the second time in two years, not every mayor or supervisor who committed to show up bothered to follow through.
The event is consistently rewarding — to see local representatives travel throughout their community delivering meals to those they represent, who for any number of reasons cannot easily leave their home, could put a smile on the most cynical reporter's face.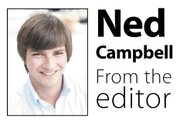 What's not rewarding, though, is seeing the look on ECHO board president Lori Gulgert's face when she realizes that the remaining elected officials on the guest list — village of Solvay Mayor Kathy Marinelli and town of Geddes Supervisor Manny Falcone — are not just late, but not coming at all.

Patricia Butler, the village of Camillus' newly-elected mayor, said she was "honored" to be invited. As a retired nurse, Butler knows the value of what Meals on Wheels does for the community's elderly and otherwise homebound. For her, attending was both a way to show her appreciation and an opportunity to meet some of her constituents.
The option to opt out of showing up probably never crossed her mind.
ECHO Meals on Wheels provides a tremendous service to the elderly and otherwise homebound citizens of the western suburbs. It's too bad those mayors and supervisors who didn't attend last week's event couldn't share in Mayor Butler's appreciation for what they do.
And it's too bad that events meant to raise awareness for a worthy cause often only reach those people who, like Butler, are more than aware already.
Vote on this Story by clicking on the Icon