SYRACUSE — It's an Irish celebration, St. Patrick's Day, but for the city of Syracuse, it was a gathering of people from all walks of life.
The 30th St. Patrick's Day parade brought out a massive crowd of people who wanted to check out the floats, drink a few adult beverages and enjoy the stunningly beautiful summer, err, March weather on Saturday, March 17.
Some were there with their family in tow, while others were enjoying the day with friends. But no matter the age, it seemed that every person in attendance had a Guinness of a good time.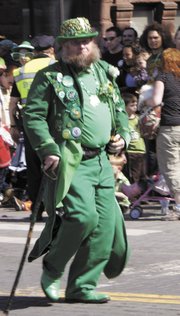 For 27-year-old Andrew Menkes, a Syracuse resident who was born and raised in Massena, it was an afternoon to behold. He was there with a large group of friends, and had been out since the early morning.
"I've been coming here for years," said Menkes, clad in a green shirt, green shorts and even green Nike sneakers. "It's so much fun. You get to see this awesome parade, and all these families out here. It's a blast. And the weather is making for an even better time."
Street vendors lined the sidewalks, selling everything from beer and hot dogs to shirts and green memorabilia. When the parade got underway, many of the younger attendees spilled into the street to watch the floats and marchers stroll by.
It wasn't just locals who came to enjoy the festivities. A family of four from Guilderland came out here to see what some friends have told them about the parade.
Glen McEhleny, a 31-year-old carpenter, and his wife, Alyssa, brought their 2-and 3-year-old sons for their first St. Patrick's parade experience of any kind.
"I am fully Irish, and I want my children to be able to enjoy their heritage," said Glen. "So far, they seem to love it all. It's a bit different from when I was younger and would celebrate this holiday. I am a bit more mature when the family is around."
(Continued on Next Page)
Prev Next
Vote on this Story by clicking on the Icon