continued — On Thursday, March 22, the Skaneateles CSD administrative team, under direction of the board of education, met to discuss the current budget projections and look at how they could achieve the necessary $290,000 reduction while still protecting school programs, said Superintendent Phil D'Angelo.
"To find $290,000 is still a big feat, but it is still a far cry from finding the $1.1 million that we had to do last year," D'Angelo said.
The board is scheduled to adopt a budget proposal on April 17, with the budget to be available to the public on April 24. A budget hearing will occur on May 1, the budget will be mailed to every member of the community on May 8 and the budget vote will occur during the annual meeting for school election on May 15.
All of the current budget projections and documents, including the tentative budget, are available on the district website at skanschools.org/Budget.cfm.
Also approaching quickly is the April 16 deadline for candidate petitions to the school board. Three seats — currently held by Board President Evan Dreyfuss, Board Vice President Kate Cogswell and Board Member Michael Card — are up for election this year. Dreyfuss has confirmed that he will run again to retain his seat. Cogswell and Card have not yet announced their plans.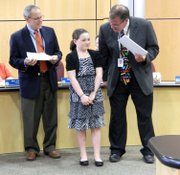 Also at the meeting:
—D'Angelo announced that 37 elementary and middle school students have had their original writing or artwork accepted for publication in the 2012 Three Lakes Sampler, a yearly publication of literature and the arts done by Cayuga-Onondaga BOCES. D'Angelo and the principals of the Skaneateles elementary, intermediate and middle schools handed out certificates of achievement to all of the students who attended the meeting.
—D'Angelo and the school board also recognized two student athletes for achievements at the recent state competition: Nico Petrocci, who placed second in alpine skiing, and Khiary Gayle, who placed sixth in indoor track.
Vote on this Story by clicking on the Icon