Manlius — This month, the Fayetteville-Manlius High School math department sponsored several events in honor of "Pi Day." Pi Day is celebrated by mathematicians around the world on March 14 because the date (3/14) approximates the digits of pi (π ≈ 3.14159…), the ratio of the circumference of any circle to its diameter.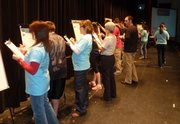 To build up excitement prior to the big day, the department sponsored a T-shirt design contest. Several students submitted entries that reflected the spirit of Pi Day and the proceeds from the shirt sales benefited Camp Good Days and Special Times. The winning T-shirt designers were Elaina Attallah and Leah Pilcher. These students each received a free T-shirt and the math department was able to donate almost $300 to Camp Good Days.
The "big event" on Pi Day was the options assembly, featuring a pi digit memorization contest, songs about pi, a Rubik's Cube contest, and a student version of the popular game show "Family Feud."

Students participating in the pi digit memorization contest were Allie Alcott, Colin Barber, Matt Belanger, Dante Capriotti, Jennifer Duppert, Sarah El-Amir, Austin Genther, Anna Hrbac, Hannah Kraus, Nick Licitra, Tina Liu, Jason Liu, Sharon Meguira, John Paliakkara, Adam Phipps-Swanson, JP Quinn, Joonyong Ree, Christie Rutledge, Todd Sharp and Chris Wang.
The winner of the first preliminary round was Hannah Kraus, who was able to write 459 digits of pi correctly in 3 minutes and 14 seconds with only 2 mistakes. The winner of the second preliminary round was JP Quinn, who wrote 455 digits of pi, also with two mistakes.
In the final round, JP and Hannah and went head-to-head in a verbal contest, taking turns saying one digit of pi until someone made a mistake. These two students recited 456 digits of pi before a mistake was made. Hannah Kraus was the Pi Digit champ! Her name will be engraved on a special Pi Day trophy, which will remain on display in the math wing. The top 10 participants were awarded Pi-themed pencils and gift certificates for free "pizza pi" donated by Mark's Pizzeria, Nice N Easy and Pizza Hut.
(Continued on Next Page)
Prev Next
Vote on this Story by clicking on the Icon