Skaneateles — About 15 years ago, the W.G. Allyn Ice Arena — also known as the Austin Park Pavilion — was filled to the brim with skaters of all ages, much as it is today.
To say it was "filled," though, really does not begin to describe how many people truly used the rink on a daily basis.
"At the time, the ice rink was over-subscribed by the various different groups including the Skaneateles Youth Hockey Association, Skaneateles Varsity Boys Hockey team, adult hockey groups and the Skaneateles Figure Skating Club," said Matthew Major, a former town official and current YMCA official. "There was not enough ice available for all the groups. It caused a lot of hardships between the groups and I seemed to be in the middle of it all."
That's when the idea for a second rink was created, nurtured and flourished into what is now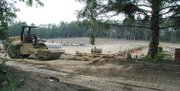 the Skaneateles YMCA and Community Center, which will celebrate its 10-year anniversary on April 2.
How it started
Major, who served as the town of Skaneateles Parks and Recreation director prior to, throughout the construction and for the first eight years before turning the center over to the YMCA in August 2010, said those utilizing the old rink weren't getting enough ice time, along with children skating until 11 p.m. on school nights and some on the ice as early as 5 a.m. before heading off to school in the morning.
Too many skaters on the ice turned out to be a good problem for the community, said Major, who is now the facilities and rinks director for the Skaneateles YMCA and Community Center. Following a meeting with groups using the ice, it was decided the only solution was the construction of a second rink.
"John Angyal was the town supervisor at the time and he was a strong advocate of the plan to build another ice rink," Major said, adding the Skaneateles Recreational Charitable Trust held several public meetings to get community feedback. "It turned out that there was a great interest in other recreational activities."
(Continued on Next Page)
Prev Next
Vote on this Story by clicking on the Icon