Skaneateles — After a hard-fought campaign in the village election, challenger Jim Lanning and incumbent Sue Jones were declared the winners of the two seats on the village board of trustees on election night, Tuesday, March 20.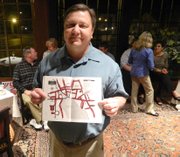 Minutes after the voting booths closed at 9 p.m., Village Clerk Patty Couch announced that Lanning garnered the most votes with 271 ballots cast for him; Jones came in second with 250 votes; current Trustee John Cromp, appointed to the board one year ago and running for his own full term, came in a close third behind Jones with 247 votes.
There were a total of 388 ballots cast in the election, with 57 absentee ballots, Couch said.
There were also write-in ballots cast for five other individuals: Don Cox, Dan Govern, Ginny Longacre, William Lynn and Patricia Williams.
"I'm speechless right now," Lanning said from the west porch of the Sherwood Inn, where he and a group of his supporters had waited for the results. "It's overwhelming when your community makes a statement and takes the challenger to victory. Very humbling."
Lanning, who ran unsuccessfully for village trustee last year, worked hard this year going door-to-door to meet and speak to village residents, he said. His campaign signs were visible in yards throughout the village, and on election day he could be seen with a campaign sign on West Genesee Street waving to passing motorists.
Jones called the election results "bittersweet" after Couch announced the final numbers outside the voting room in the Skaneateles fire station.
"I'm very pleased to have been reelected and my congratulations to Jim, but I am so sad to lose John [Cromp from the board]," Jones said. "When I decided to run again this isn't the outcome I wanted."
Cromp, who has run unsuccessfully for the board in the past, took the election results well, saying he has lost before and therefore this is not that upsetting.
(Continued on Next Page)
Prev Next
Vote on this Story by clicking on the Icon