Camillus — A lover of animals and a woman with a heart full of compassion, Diane Smith worked tirelessly to help those in need.
She acted as the liaison between Fairmount Animal Hospital, where she worked as the finance director for years, and Shamrock Animal Fund, a local not-for-profit that helps pay for veterinary work.
"That was her greatest mission in life — trying to help," said Fairmount Animal Hospital co-owner and veterinarian Eileen Fatcheric. "It wasn't just the animals, it was for people, too."
Smith, of Marcellus, passed away in February from pancreatic cancer. Her spirit will shine on at Shamrock Animal Fund's annual event, Shamrock's Celebration, next week. The event has been dedicated in her memory and two local vets will be receiving the newly-minted Diane Smith Service Award.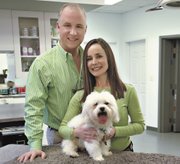 Shamrock Animal Fund, founded by Fayetteville husband and wife Jamie Pomilio-Mulcahy and CNYCentral news anchor Matt Mulcahy, works to help fund veterinary trips for sick or injured pets of owners who demonstrate dire financial need. The fund has worked with more than a dozen Central New York animal hospitals, including Fairmount Animal Hospital, to provide emergency and life-saving veterinary care for animals.
Diane served as the liaison between the hospital and the fund.
"She had a very strong sense of dedication," said her husband of 38 years, Ronald. "When she believed in something or believed that something was right, she would use every bit of her talent.She would apply all of her skill, all of her energy to whatever she believed in. And she believed in Shamrock."
After the fund's inception, Fatcheric said Diane reached out to the Mulcahys to see what she could do to help. Diane was adamant about helping the pet and its owner, working to do all of the background work to make sure the animal received the proper care.
(Continued on Next Page)
Prev Next
Vote on this Story by clicking on the Icon