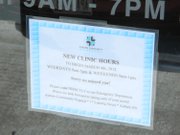 Skaneateles — The Skaneateles Urgent Care center on West Genesee Street has reduced its operating hours on both weekdays and weekends in response to a system evaluation that determined the longer hours were no longer cost effective.
From a schedule that was 9 a.m. to 7 p.m. seven days a week, the Skaneateles Urgent Care center, which is owned and operated by Auburn Community Hospital, now operates 9 a.m. to 5 p.m. on weekdays and holidays, and 9 a.m. to 1 p.m. on Saturdays and Sundays.
"We did make some changes recently, going back to our original hours from a few years ago," said Roz McCormick, vice president for public relations for Auburn Community Hospital. "The hospital feels very strongly about the availability of quality and efficient health care in Skaneateles. We are meeting the needs of the community, but we must constantly evaluate our services."
She said these evaluations consider everything from patient usage and benefits to operational issues to profit margins.
The Skaneateles Urgent Care facility has been in Skaneateles since the 1990s. Its stated mission is to "provide treatment of patients suffering non-emergent conditions which require medical care when the services of their family physicians are not available, the patient does not prefer a private physician or the patient is unable to secure a private physician," according to the Auburn Hospital website.
Skaneateles Urgent Care patients may either make an appointment or walk in for treatment.
The original intention of the Urgent Care center was to be available the extra hours when regular physicians' offices are closed, McCormick said.
Although the new urgent care hours are not much different than private physician office hours, the Skaneateles Urgent Care center does play an important role in the community by offering walk-in services, having weekend and holiday hours, and being available to people with no access to primary care, whether it is people without a primary physician or tourists, McCormick said.
(Continued on Next Page)
Prev Next
Vote on this Story by clicking on the Icon