continued — "Walk around the farm, ask other people in the area about the milk and the product and then do some reading," he said, recommending WestonAPrice.org as a good source of information. "I have a hard time telling people what to eat or what to drink, what's safe and what's not. I've been drinking raw milk for several years. I've never had an issue. My customers have never had an issue. It's a food and with all foods you have to be careful about what you eat and how you eat it and take care of it."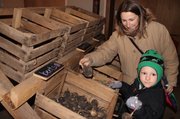 In addition to raw milk, Greyrock Farm offers seasonal vegetables and storage crops year round, as well as grass-fed beef and lamb, pastured pork and chicken, and eggs through its CSA program.
Greyrock Farm is easy to find at 6100 East Lake Road in Cazenovia, just outside of Manlius. Volz encourages people to call him for a tour and can be reached at 484-888-6254 or by email at mcvolz10@gmail.com.
Customers are welcome to visit any time between 7 a.m. and 7 p.m. all days except Wednesday and Thursday.
Friday Farmstand takes place between 2 and 5 p.m. when customers are invited to shop the store.
Tami S. Scott is an avid writer, world traveler and freelance journalist for Eagle Newspapers. She can be reached at tami.zim@gmail.com.
Vote on this Story by clicking on the Icon