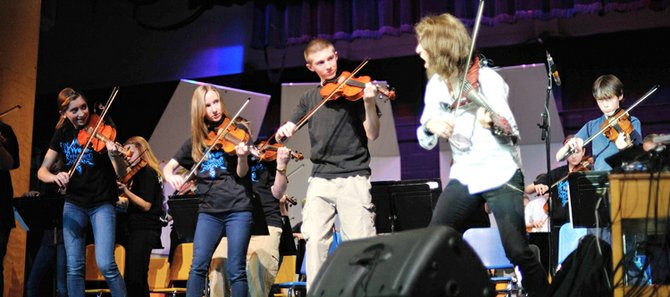 continued — EYS is in its tenth year, according to Wood. Before he began this series of music education programs, he experienced success and fame over his other musical endeavors. As a Juilliard-trained student, he studied under Leonard Berstein, famed composer of various musical works and conductor of the Boston Symphony Orchestra.
He stated that some of the biggest influences on his music were rock guitarists Eddie Van Halen and Steve Vai, among other esteemed guitarists and musicians.
Wood was invited onto the Tonight Show with Jay Leno in the 80s during a time of "big explosion of virtuoso rock players." Wood stated that he himself was the only rock player that played the violin.
In 1992 Wood helped form the Trans-Siberian Orchestra. His brother Greg was also a part of the orchestra at one time, and remembers touring with his brother. The brothers commented on their musical histories as something inevitable. Their mother, Jacqueline Wood, was a pianist, and taught her four sons to be musicians. At one time, they formed what they referred to as the Wood String Quartet.
Mark Wood said that his love of music came to him naturally. "My mother would play piano to put us to sleep and that got the music deep into our hearts."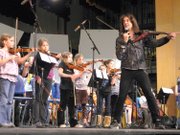 Other of the musician's notable feats include an Emmy award among other nominations, as well as his unique electric instruments, the first of which he designed in the early 70s. Now they are made under the company Wood Violins. Several of these were featured at the show.
Wood developed the EYS program because "after all my success, it was time to give back and the joy and pleasure of empowering kids with music changed everything for me," he said.
He feels that his efforts with the music education program have "turned into a battle cry for America...half a dozen styles of music all came from this country," he said and he thinks that an emphasis on education in the arts will only continue to fuel America's creativity.
Vote on this Story by clicking on the Icon