Baldwinsville — Mr. Paul S. Dwyer, of Baldwinsville, announces the engagement of his son, Patrick Shaun Dwyer, to Jessica Gail Hewitt, daughter of Mr. and Ms. Norman K. Hewitt of Hillsborough, NJ.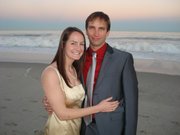 Patrick Dwyer graduated with a bachelor of arts degree in environmental science and a minor in geography from the SUNY Plattsburgh and was a member of the Gamma Theta Upsilon International Geographical Honor Society. He is a chemist employed by Clean Harbors Environmental Services Incorporated in Aurora, Colorado.
Jessica Hewitt graduated magna cum laude with a bachelor of science degree from the University of Mary Washington and with a master of science degree in plasma physics from Dartmouth College. She is a captain in the United States Air Force and is currently stationed in Colorado Springs, Colorado.
A July 2012 wedding is planned.
Vote on this Story by clicking on the Icon