It's a long way from a church basement in Taunton to the spotlit stages of midtown Manhattan!
Marissa Mulder, who got her start singing in musicals and concerts at St. Ann's Church on 4461 Onondaga Blvd., in Syracuse, is now a 20something budding cabaret star being reviewed by The New York Times.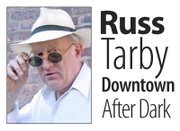 A ravishing redhead with a gorgeously girlish voice, Mulder now performs at the prestigious Metropolitan Room, at 34 W. 22nd Street. Why not? Last summer she won the club's annual MetroStar Talent Challenge.
Oberlin protégé
Mulder has also headlined at La Mediterranee, an authentic French restaurant at 947 2nd Ave., and recently debuted at the Don't Tell Mama piano bar/cabaret on West 46 Street's Restaurant Row.
The SUNY Geneseo grad is making the most of higher education in the Big Apple. She's working with pros like music director and pianist Bill Zeffiro and the veteran bassist John Loehrke. She frequently performs the songs of Mickey Leonard, who wrote soundtracks for the TV sitcom "Happy Days." Leonard occasionally accompanies her on piano.
She's also wise to align herself with another Syracuse native, award-winning vocalist Karen Oberlin, who directs Mulder's performances. Oberlin made sure to invite New York Times pop critic Stephen Holden to attend when Mulder presented "Illusions" last week at the Metropolitan Room.
'Bounce and twinkle'
In the March 8 edition of the Times, Holden wrote, "Ms. Mulder, who comes from Syracuse, has a voice with a bounce and a twinkle that recall that much-missed pop-jazz pixie, Blossom Dearie, who died three years ago. Unlike Dearie, a minimalist to her bones, Ms. Mulder has a Broadway side that reared up now and then. But her best singing was quiet and friendly."
Among the tunes that Holden heard were "It's Only a Paper Moon," "Never Never Land" and a gripping "Nobody's Heart."
(Continued on Next Page)
Prev Next
Vote on this Story by clicking on the Icon