Policing the police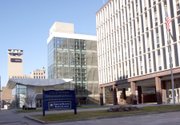 continued — The greatest majority of FOILs to fill, across the board, are through the police department.
In Syracuse, about 20 percent, or nearly 300 requests, were made specifically to the police department.
"Most commonly, the police get the majority of the requests because of accident reports or inquiries from the media about different incidents," said Barry. "The police have to take the time to gather that report and send the response over to [the city's legal team.]"
Barry said much of the personal information on a police report is redacted, such as birth dates and social security numbers, mainly to protect witnesses of crime.
"We want people to feel comfortable reporting these things to police," Barry said. "In turn, we try to protect the privacy to the extent we're allowed."
Records show limited denials in the city's FOIL requests, particularly when dealing with police. Only two requests were denied, according to documents received by Eagle Newspapers. Denials are typically due to an open investigation, Barry said.
The volume of police reports is also true in Camillus, where a whopping 33 percent of FOILs were in regards to police matters, and in DeWitt, where 36 of 44 requests in six months were for police matters. That's 81 percent of the total FOILs.
"If it's a police report, it's public," said Barbara Klim, DeWitt town clerk. "Unless there is a special circumstance where the police department said it couldn't be released, because of an informant might need to be protected, or a minor's name may need to be redacted."
All of DeWitt's requests for police information were granted but two, which were both related to the police department's work in the case of Nicholas Auricchio. His attorneys requested vacation records and requests for two DeWitt Police Officers, which was denied. Other aspects of that request were approved and granted. Attorneys also requested employment records of the same two police officers, which was also denied.
Vote on this Story by clicking on the Icon