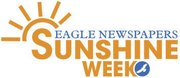 SYRACUSE — More than 20,000 pages of documents were released by Freedom of Information Law last year in Onondaga County. Those documents correspond to more than 2,500 requests made across 20 towns, villages and the city of Syracuse.
These documents were made available by FOIL, a law that allows most documents held by government to be open to the public. The laws require municipalities to fulfill requests made for any number of documents, including police reports, emails, meeting agendas and minutes, calendars of public officials, building permits and policies.
The Eagle tested towns, villages and the city of Syracuse's access to records in anticipation of Sunshine Week, the annual celebration of open government and freedom of information. The nationwide celebration, started by journalists but used to encourage citizen engagement, runs from March 11 to 17.
A request was sent to towns, villages and the city of Syracuse Feb. 9, seeking a log, should they keep one, of all FOIL requests processed by the clerk's office in 2011. If a log wasn't kept, reporters requested access to the file of FOILs, which are required by state law to be kept by the clerk for at least six months. Two towns, Clay and DeWitt, purged the records that quickly. Three towns, Camillus, Cicero and Manlius, kept a log of all FOIL records from 2011.
While the village of Jordan didn't have anyone looking for records, the city of Syracuse was inundated with nearly 1,500 requests.
"[Freedom of Information Law] is great for keeping our government open and transparent, and letting people know what's actually going on out there," said Roy Gutterman, associate professor of communications law at Syracuse University.
Turn the volume up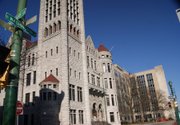 "We really get inundated with a large quantity of FOILs [Freedom of Information Law requests], and they really run the gamut of all different types," said Joseph Barry, Syracuse's first assistant corporation counsel.
(Continued on Next Page)
Prev Next
Vote on this Story by clicking on the Icon