For Glen Lewis, a successful idea has many parents. Lewis, according to Andy Maxwell, is the Planning Guru of the city's Parks Department. Maxwell oversees the municipal Bureau of Planning and Sustainability. Together they provide the point where the buck stops on the Creek Walk, one of Syracuse's most successful ideas, they both agree. Actually, they are hoping to be the point where the bucks begin, estimated by them at $12 million to initiate planning, design and construction of Phase II on the nature-to-urban pathway now stretching two and a half miles from Onondaga Lake to a point in Armory Square between the back of the MOST and Sound Garden.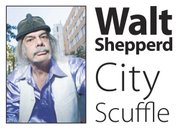 Establishing precise parenting for the Creek Walk idea may be elusive, according to Lewis, who notes that local developers were batting the idea about in the Sixties. Pyramid developer Robert Congel got it off the ground in conjunction with the renovations of Franklin Square, Lewis says, with Matt Driscoll's administration codifying it as a project. Maxwell says completion of Phase I was a real priority for Stephanie Miner's City Hall. Now they're reflecting on the feasibility of Phase II, extending the Creek Walk from Armory Square to the mid-Southside, through Onondaga Park to Kirk Park. "I'd love to think there could be federal transportation funds through the state," Maxwell muses. Right now, however, he sees them as a few years away, "under the best of circumstances."
Walk to work with the sound of rushing water
Maxwell sees the function of the Creek Walk, which may be totally unique in urban America, as more than an accessible place to commune with nature, chilling out from the stress of city life. "It provides an opportunity to commute to work and events," he maintains, "distinct from driving, with even more potential for exercise and bike lanes, and it's already a tourist destination." At a point where the creek widens for its entry to urbanity, Lewis points to a bridge with the sounds from cars passing overhead. Take a step toward the yellow painted line which traces the Creek Walk path across West Genesee Street and along the Clinton Street sidewalk, Lewis motions, and the sound of rushing water dominates the scene.
(Continued on Next Page)
Prev Next
Vote on this Story by clicking on the Icon