David Kaczynski, the executive director of New Yorkers for Alternatives to the Death Penalty (NYADP) and the brother of so-called "Unabomber" Theodore Kaczynski, will deliver the next Cazenovia Forum lecture, at 7 p.m. Friday, March 30, in Cazenovia College's Catherine Cummings Theatre on Lincklaen Street.
The event is free of charge and no reservations are required. A reception will follow the talk. More information can be found at cazenoviaforum.com.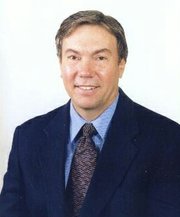 At NYADP, Kaczynski led a successful statewide campaign to end New York's capital punishment system, and has since focused his organization's work on promoting community initiatives that address the root causes of violence and provide assistance to those directly affected by it.
Theodore Kaczynski was arrested in 1996 after David and his wife Linda Patrik approached the FBI with their suspicions that he might be involved in a series of bombings that caused three deaths and numerous injuries over 17 years. It was Linda who first suspected David's brother as the Unabomber, and she pressed him to search for the truth after the Unabomber's "Manifesto" was published in The Washington Post.
Despite a diagnosis of paranoid schizophrenia, Theodore was charged capitally and avoided the death penalty only after his family waged a two-year campaign to convince the United States Justice Department that his delusions had precipitated his violent behavior.
Subsequently, David Kaczynski formed close friendships with Gary Wright, who was nearly killed by one of his brother's bombs, and with Bill Babbitt, who saw his own brother executed 18 years after he turned him in to the Sacramento police. A documentary film, "An American Life: The Journey from Violence to Hope," featuring the three friends and Bud Welch, whose daughter Julie was killed in the Oklahoma City bombing, is currently under production.
Prior to joining NYADP, Kaczynski was assistant director of the Equinox shelter for runaway and homeless youth in Albany, where he counseled and advocated for troubled, neglected and abused youth in the Capital District.
(Continued on Next Page)
Prev Next
Vote on this Story by clicking on the Icon