Manlius — Most high school musicals have been done before. And then there's "Legally Blonde."
The rights to the modern pop musical, based on the 2001 motion picture of the same name, became available to high schools in November — just in time for Fayetteville-Manlius coordinator of music David Brown to select it as this year's spring musical.

The musical, with music and lyrics by Laurence O'Keefe and Nell Benjamin, opened on Broadway in April 2007 and played in Syracuse in November 2010.
Members of the F-M community who saw last year's production of Claude-Michel Schönberg's "Les Miserables," a tragic tale of redemption and revolution set in early 19th-century France, will be in for a different experience, to say the least, when "Legally Blonde" opens at 7 p.m. Friday, March 16 at the high school. More performances are scheduled for 7 p.m. Saturday, March 17, and March 23 and 24.
"We did a very dark production last year," Brown explained as one of three reasons "Legally Blonde" was a "slam dunk" choice for F-M. "I was looking for something lighter and comedic."
Another reason was that he, personally, enjoys finding new and modern musicals, "and I think the students really embrace the pop style of shows," he said.
Brown also chose it to help showcase F-M's wealth of talented female actors.
"The third reason was it was a very large female role production, and most productions these days, and in the old days, were all heavily cast for men and not women," he said.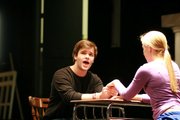 This isn't to say audience members won't see more than a few young men hamming it up on stage this weekend and next.
"But what usually happens is there's nothing for women, and this one has a lot of [roles for] women and men," Brown said.
The kids have responded with great enthusiasm, starting in November when the musical was first announced.
(Continued on Next Page)
Prev Next
Vote on this Story by clicking on the Icon