SYRACUSE — It's a big year for the city's Rescue Mission.
Not only is the organization celebrating its 125th year as the city's biggest help to those who need it most, but it also unveiled the new Mission District at a press conference last week.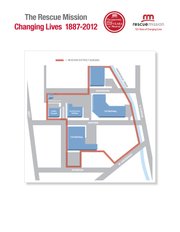 Mission Executive Director Chasz. Parker opened the ceremony with some kind words about the Mission's first 125 years, saying many more years will follow.
"This traces our lineage to New York City," he said, referring to how the Syracuse Mission is an extension of the original.
The new district encompasses the Rescue Mission's campus, from the Onondaga Creek and east, Granger Street and west, Dickerson Street to the north and Gifford Street to the south.
The Mission itself has helped the homeless find shelter and nourishment, but Parker also explained a little behind the scenes. He told the story of a man who thanked him because the man had recently been released from prison with nowhere to go. The Mission took him in, and he obtained skills not only to live on his own, but also some skills fit for employment. The man ended up with a job at the Mission, and told Parker he'd be dead if it weren't for the services the Mission provided him.
"We like to welcome people we serve," he said. "We tell them, 'We're glad to have you here,' to those who come in."
In 1887, the Mission formed with a goal to change the lives of the homeless, hungry and hurting people in Syracuse, with the main goal being independence. It started as an outreach program to Erie Canal workers and has expanded significantly since then. Surrounding communities have pitched in to help it become what it is today.
The numbers provided by the Mission for 2011 are staggering. It served nearly 225,000 meals, and provided more than 70,000 overnight stays to more than 1,500 people in Syracuse. It contains a 132-bed sleeping area and a Food Services Center that dished out more than 600 meals a day.
(Continued on Next Page)
Prev Next
Vote on this Story by clicking on the Icon