While many high school seniors anxiously await acceptance letters from the colleges and universities to which they have applied, Cazenovia's Korean foreign-exchange student Bora Kang can rest easy.
Kang was accepted to Hobart and William Smith Colleges by early decision, in November 2011. Rebecca Arnold, a representative from HWS, visited Cazenovia High School to personally deliver Kang's acceptance letter. Kang will begin her freshman year in August at the college's campus in Geneva.
"We're just really excited about having her. She is an amazing student and she will bring so much diversity to [Hobart and William Smith Colleges]," Arnold said. "We'll be happy to have her perspective in the classroom and around campus. She will add a lot to the environment."
Kang was raised in Seoul, South Korea, the second-largest city in the world. Her father is currently studying to become a pastor and her mother is an elementary school teacher. Kang's brother is presently a sophomore at nearby Colgate University in Hamilton.
Learning that she and her brother would be just a car-drive away from her host family in America was a pleasant surprise, as she could have been placed anywhere in the country.
Kang's strong work ethic and curiosity first piqued her interest for studying in America when she was 17 years old. She said she would study nightly until 11 p.m., learning of other cultures around the world and especially within the United States.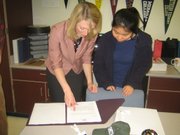 "I think it helped me discipline myself academically, but I did not have an opportunity to step outside of my own little world, to explore the bigger world. I wanted to really feel and touch a different culture and communicate with different people in a different language," Kang said. "The hardest thing to adjust in the first year was, and still is, [living in] a small community. Cazenovia is such a small community that everyone knows everyone. It was hard for me to break into a 'group' of people to make friends, even though Caz students were very welcoming. I am also quiet, according to what people think, but I talk a lot once I become someone's close friend."
(Continued on Next Page)
Prev Next
Vote on this Story by clicking on the Icon