One of the best vocalists of the 20th century, Bing Crosby, got his start singing with the Rhythm Boys, a vocal trio featured with the Paul Whiteman Orchestra.
When the Syracuse Cinephile Society presents its 32nd annual Cinefest March 15 through 18, at the Holiday Inn in Liverpool, one of the five dozen featured films will show a dashing young Crosby harmonizing with the Boys, Harry Barris and Al Rinker.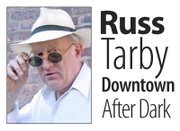 The 1931 flick, "Confessions of a Co-Ed," stars Sylvia Sidney as a jazz-age college gal who is impregnated by the man she loves but marries a classmate instead. The true lover returns, and our heroine must make a difficult choice.
The Rhythm Boys appear in the film's first 10 minutes depicted entertaining at a fraternity house party. Der Bingle croons "Out of Nowhere," a huge hit from Paramount's Dude Ranch, and then the boys join him for a rollicking "Ya Got Love."
"Confessions of a Co-Ed" screens here at 4:50 p.m. Friday, March 16.
Moonlight and Pretzels
Hundreds of classic movie buffs from around the world will gather in Liverpool to view seldom-screened vintage films at Cinefest 32. The film festival runs four days, from Thursday, March 15, through Sunday, March 18, at the Holiday Inn on Electronics Parkway. Silent and sound films produced between the early 1900s through the early 1940s will be shown along with rare short subjects. Highlights include an auction, a 35mm show at Eastwood's Palace Theatre, memorabilia dealer rooms and appearances by film historians such as author Leonard Maltin.
An offbeat oddity, the 1933 pop musical "Moonlight and Pretzels," will also be screened. An ambitious competitor to "Gold Diggers of 1933," "Moonlight and Pretzels" boasts a pleasing score, including songs by Yip Harburg and Jay Gorney, but also featuring Herman Hupfeld compositions such as "I've Gotta Get Up and Go to Work." The title tune, "Moonlight and Pretzels," comes complete with bubbling beer and bratwurst.
(Continued on Next Page)
Prev Next
Vote on this Story by clicking on the Icon