Baldwinsville — It only took Lynda Meyers six months to put together her first published novel, but for nearly three years following the initial draft, the Baldwinsville author tweaked and edited a story that unfolded before her eyes in what she describes as "a vision."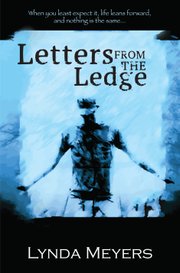 "'Letters From The Ledge' is a story I watched unfold in a vision one day, each character coming into view like the opening scene from a movie," Meyers said.
Suddenly, there was a silhouette of a young man against the night sky, standing with his arms outstretched, contemplating suicide, she said.
"I kept watching as the scene panned out and a light came on in a window across the way. Another silhouette, but this one female, watching and journaling. The camera panned out and back once more, until I was sitting on a fire escape, watching the two of them, but I wasn't alone," Meyers said. "Paige and Nate were there with me."
When Meyers began writing her novel, which is categorized for readers from 15 to 30 but reaches an audience from middle school students to grandmothers, it was through Brendan, her main character. His voice spoke to her and when he spoke, she could do nothing other than write what he had to say. Three weeks after she started the project, Meyers had written 45,000 words.
"In many ways, Brendan is the archetype for today's young adults. Often they're tattooed, pierced, labeled and misunderstood. They have this way of looking at the world that's unique and sometimes fearless," she said. "That scares people. But if we would just take the time to climb up next to them and see what they see, maybe we could all learn a little more about what it means to really fly free."
For the author, who is the subject of a "Meet the Author" event March 6 at the Baldwinsville Public Library, many of the issues she tackles in the book hit close to home, either because of a personal experience or because someone she knows has gone through similar situations.
(Continued on Next Page)
Prev Next
Vote on this Story by clicking on the Icon