Superintendent Joseph A. D'Amico promoted Rodney W. Campbell of Richfield Springs to the rank of major, effective Feb. 17, and assigned him to the position of Troop Commander at Troop D Headquarters in Oneida.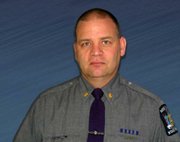 Major Campbell started his career as a Trooper in Troop D in 1989. He was promoted to sergeant in 1996 and to lieutenant in 2000.
Major Campbell has also served in Troops T (Thruway), A (Buffalo area), and Division Headquarters in Albany.
His most recent assignment was as a captain in Troop C, Sidney, N.Y., where he was in charge of the zone headquarters at SP Oneonta.
Major Campbell, 45, resides in the Troop D area with his wife, Amy, and his 3-year-old son. He is a graduate of Mohawk Valley Community College with a degree in data processing.
Major Campbell's command covers seven counties which include Herkimer, Jefferson, Lewis, Oneida, Onondaga, Oswego and Madison. Operating from 27 facilities, the men and women of Troop D provide service to 167 towns, 89 villages and five cities.
Vote on this Story by clicking on the Icon