Fayetteville — The halls have been abuzz with excitement at Mott Road Elementary School ever since Principal Lynnette Bonner announced she would circle the halls on a tricycle if the students collected 2,000 Box Tops for Education labels during the month of February.
"That's what they've talked to me about all month long," Bonner said this morning after riding the tricycle during the school's morning mile, a daily event where students socialize and walk, skip or even run through the halls to get energized for the day after sitting on a bus. Needless to say, the students met Bonner's challenge.
"The deadline was the 27th to bring in two thousand Box Tops, and they actually brought in six thousand forty-two — I mean, it's three times as much to see me do this," Bonner said.
The kids had looked at a cardboard cut-out of Bonner on the tricycle setup in the halls all February, and the real thing proved worth the wait. They shrieked with excitement at the sight of Bonner riding the classic Radio Flyer tricycle up and down the halls to the music of the Beach Boys' "Fun, Fun, Fun." She was joined by school secretaries Dianne Peters, on a scooter, and Lori Woodard, on a "race roller."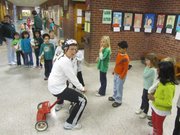 The school collects Box Tops every year, and Rachel Costanza, a parent of two Mott Road students who coordinates the fundraising, said the kids typically bring in 1,200 Box Tops a month. It was her idea to spur the fundraising effort with the promise of Principal Bonner on a bike.
"It hasn't been anything quite this outrageous before," Bonner said. "Everyone seemed to really enjoy it — much more than I anticipated I guess. I know the kids were excited, but I think the staff was pretty revved up, too."
The school collects the labels found on cereal boxes, juice boxes, sandwich bags and other grocery items to benefit its parent group, the Home and School Association. The group receives 10 cents for every label it sends in to the Box Tops for Education organization.
The HSA has helped fund things like playground upgrades and author visits.
"They just supplement things that are maybe more costly than the budget we have from the district," Bonner said. "One area we're going to look at is we're refurbishing our nature trail, so I think the HSA will be very instrumental in maybe funding some of the things we need to build that nature trail up."
Ned Campbell is editor of the Eagle Bulletin. Reach him at editor@eaglebulletin.com.
Vote on this Story by clicking on the Icon