Drummer Vinnie Ludovico can play any style of music.
When I first got to know him in the late-1980s, I thought of him strictly as a rock'n'roller. After all, he hit the skins for the Masters of Reality, a hard rockin' Syracuse quintet that signed with producer Rick Rubin's renegade record label, Def American. Their self-titled disc – called "The Blue Garden" by some – turned out to be the all-time best rock record ever released by a CNY band, thanks in good part to Ludovico's thunderous drumming.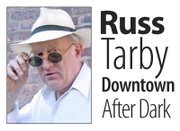 King of Clave
But Vinnie has also played plenty of jazz in his varied career, from standards to hard bop. He has performed on commercial jingles and provided the backbeat for "Leader of the Banned," a 1990 disc by the late comedian Sam Kinison.
In recent years, Vinnie has immersed himself in the Afro-Cuban sound, setting aside his trap set in favor of congas. He enjoys fusing island syncopations with the harmonic structures common to American jazz.
Vinnie reigns as Syracuse's current King of Clave, the five-stroke pattern which regulates the heartbeat of many Caribbean rhythms.
Free show Sunday
Ludovico's new combo, Moyuba Jazz, comes to Liverpool Public Library for a free concert at 2 p.m. Sunday, March 4, presented as part of the Arts Alive series. Moyuba Jazz features Ludovico, congas; Barry Blumenthal, piano; Mike Cortese, drums; Mike Dubaniewicz, woodwinds; and Darryl Pugh, bass.
The quintet's repertoire ranges from "Midnight Mambo" by Oscar Hernandez to "Caravan" by Juan Tizol. Listeners will also hear a tune or two by jazz piano giants Thelonious Monk and Horace Silver. Moyuba's pianist, Barry Bluemnthal, is especially qualified to interpret those past masters. Blumenthal's credits include work with Tony Bennett, Aretha Franklin and the Blues Brothers Band.
Vinnie Ludovico has played congas with Manhattan musicians such as Dave Valentin, Michael Mossman, Cachete Maldonado and John Amira. He now teaches at Onondaga Community College where he directs the OCC Percussion Ensemble.
(Continued on Next Page)
Prev Next
Vote on this Story by clicking on the Icon