Manlius — The New York State Athletic Administrators Association has selected Rich Roy, Fayetteville-Manlius School District's director of physical education and athletics, as the 2012 Chapter 3 New York State Athletic Administrator of the Year.
The annual award is given to an athletic administrator who has shown evidence of devotion and idealism to athletes through the New York State Athletic Administrators Association and has demonstrated influence and power in the promotion of athletics in a positive manner, according to the NYSAAA website.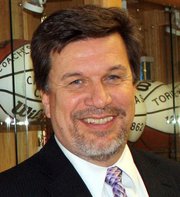 There are 11 NYSAAA chapters across the state and each chapter selects a winner. There are 108 school districts in Chapter 3, which includes school districts in the Central New York area.
Roy, a Baldwinsville resident, will receive the award during a banquet March 15 in Saratoga Springs.
"I am honored to be receiving this recognition from my peers," Mr. Roy said. "Moreover, I have been privileged to work in the field of interscholastic athletics as well as have a long association with the Fayetteville-Manlius School District."
Roy served as president of Section III Athletics from 2004 to 2006 and was president of the Onondaga High School League from 1995 to 1997. He plans to retire from F-M at the end of the current school year.
During his 22 years at F-M, Roy added to the district 30 sports teams, four sports programs, and 13 athletic fields; helped pioneer the district's curriculum mapping initiative with his physical education teachers; and created more than 2,000 athletic opportunities for students in grades 7-12. The athletic program has enjoyed numerous successes at state and national levels, which have elevated it to number four in the country, according to ESPN High School.
Scott Sugar, who chairs the NYSAAA awards committee, said Roy was selected to recognize his many successful years of service to the F-M School District and also Section III Athletics.
"Rich has been one of the leading administrators in Section III for a long time," Sugar said.
Vote on this Story by clicking on the Icon