Editor's note: Mr. Batlle's guest column was submitted in response to Jason Emerson's article in the June 13 issue, "A brief history of the Skaneateles Press."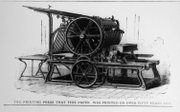 The Skaneateles Press was one of two publishing and printing enterprises in Skaneateles in 1963. The other, Lakeside Printing where the Skaneateles Pennysaver was published, used offset printing for their work, while the Press was still using letterpress with which I was much more familiar.
Armed with five years of printing experience at age 18, I applied to the Press to work after school and full time during the summer and was hired at the rate of $1.50 per hour, the going rate for the time.
While I had not worked in newspaper publishing before, the Press was also equipped to produce general "job" printing such as letterheads, envelopes, forms, tickets, posters and the other forms of commercial printing needed in a small town and this was where my experience was strongest.
I quickly learned that even in a "country weekly" the basics of newspaper publishing still apply — deadlines are deadlines and if Friday is the date on your masthead then Friday is the day the newspaper gets placed in the hands of the public.
Almost the entire newspaper was printed from "hot metal" in one form or another: the text or the body was all set by Al Beam on either a Model 8 or a Model 14 Linotype as the Press had both; headlines and many of the ads were set by hand from type kept in type cases, much like the one in the Skaneateles Historical Society's exhibit; and national advertisements (like Kennedy Chevrolet might have) were cast from molten type metal poured into special paper matrices furnished by ad agencies.

Photographs, or halftones, were made on a Fairchild Scan-a-graver at The Marcellus Observer by mechanically "etching" a special sheet of plastic and mounting it on a base of hardwood to match the height of the other parts of the page forms.
(Continued on Next Page)
Prev Next
Vote on this Story by clicking on the Icon