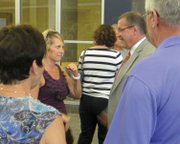 Skaneateles — The wall of portraits of former Skaneateles School District superintendents in the district office increased from three to four Tuesday night, June 19, as outgoing superintendent Phil D'Angelo had his likeness added to the group. The event was only one part of a night of community and district honors and farewells for D'Angelo before he leaves next week for Long Island to become superintendent of the Wantagh Union Free School District.
A farewell reception for D'Angelo was held in the early evening Tuesday, during which community members, district staff and past and present board of education members offered the outgoing superintendent good wishes. Later that night, the board of education honored D'Angelo with comments and a gift during the board's regular meeting.
"It was a nice cross-section of the community at the reception, and it really validated my experience here at Skaneateles," D'Angelo said. "I certainly understand that many people could not come out because of other commitments, but many people have called me, emailed or stopped me in the halls and streets to wish me well. It makes me feel good about everything I tried to accomplish here."
D'Angelo, who has been superintendent of Skaneateles for nearly seven years, resigned in early May to take the position at Wantagh. His official last day in Skaneateles is June 30, with his formal start in Wantagh scheduled for July 1.
At the public reception in the High School Commons, which featured refreshments and music from high school musicians, D'Angelo was kept busy receiving compliments, goodbyes and hugs from numerous people.
"It was always nice that Phil came into the classroom on a regular basis, the kids got to know him and he was always interested in what we were doing," said Janet Fagal, a retired Skaneateles teacher who worked in the district for more than 30 years. "Great leadership starts there I think."
(Continued on Next Page)
Prev Next
Vote on this Story by clicking on the Icon
More like this story