West Genesee Middle School technology teacher, Dan Howard has been keeping a blog of his experiences at the Honeywell Educators at Space Academy program at the U.S. Space and Rocket Center in Huntsville, Ala., this summer.

Howard was selected to participate in the program, which was designed to help teachers move beyond the standard math and science curriculum by providing innovative teaching techniques and simulated astronaut training.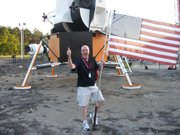 Howard arrived at "space camp" on Saturday, June 23, and has since been keeping people updated on his day-to-day activities. "Started building a solid fuel rocket. Which I get to bring home, should be interesting getting through security with my luck," he said in a June 23 blog post.
So far, Howard has toured the U.S. Space and Rocket Center, experienced a simulated damaged space station, attended various presentations and more.
On Monday, June 25, Howard blogged about his experience in the astronaut simulator training room. "Here we simulated walking on the moon, used their version of a hovercraft in which you could move the seat in all directions but up, and finally a Gyro machine that spun you round and round in all directions," he said.
To keep up with Howard's time at the space academy program, visit his blog here.
Vote on this Story by clicking on the Icon