Fayetteville Free Library became the first library in the state to offer the 3M Cloud Library eBook Lending Service this week, following the close of the 2012 American Library Association Annual Conference.
"The team at the Fayetteville Free Library has been hard at work to prepare for this exciting launch, and we're thrilled to be the first library in New York to offer this service to our patrons," said Susan Considine, Fayetteville Free Library executive director. "The 3M Cloud Library system will allow us to offer patrons the latest in eBook lending technology."
The 3M Cloud Library offers a turnkey system of digital content, in-library hardware, and apps for borrowing and reading.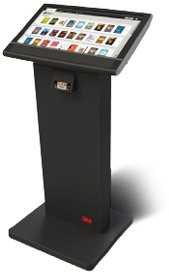 The system, installed at the library today, June 27, allows users to browse the electronic catalog and read on the device of their choice using the following components:
3M Discovery Terminal: Patrons at the library can browse the catalog on an electronic kiosk with an intuitive touch-based interface.
Mobile device compatibility: The service's eBooks are compatible with PCs, Macs, iPads, Nooks and Androids. Using their personal devices, patrons can browse, check out and read eBooks all without leaving the 3M Cloud Library app.
"Fayetteville Free Library was the first location in New York to begin to explore what 3M Cloud Library could offer patrons in their community," said Tom Mercer, digital business development leader for 3M Cloud Library. "We're confident that with this week's launch both staff and patrons will experience the ease and efficiency of eBook lending that 3M Cloud Library is now providing to libraries across the country."
Fayetteville Free Library joins a number of other libraries across the country that have adopted the 3M Cloud Library system, including libraries in California, South Carolina, Illinois, Connecticut, Alabama and Kansas.
Vote on this Story by clicking on the Icon