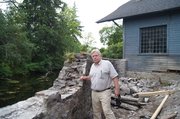 continued — Built in 1889, the structure was originally constructed as a carriage house for the Carpenter family's estate. CAVAC began using the building as its headquarters in 1974 and operated there for the next 35 years. The suggested cost of repair prompted the volunteer corps to build a new facility further up Route 20, opening the historic space for new uses.
The Cazenovia Rowing Club briefly occupied the space, renting it from the village of Cazenovia, which resumed control of Carpenter's Barn in the 1930s and formerly used it as the Department of Public Works headquarters.
Bartlett said since the village began managing the building in the 30s, lots of work had been done, but not all changes were documented. He invites all residents with interesting photos of Carpenter's Barn — circa to its construction, the village takeover, CAVAC occupancy or the last few years — to submit copies to the village of Cazenovia for posterity. He also said donations are welcomed, and should be made out to the village of Cazenovia, care of Deputy Mayor Amy Mann.
In the future, the village will continue to research and apply for EPF grant funding in order to stabilize a potion of the Forman Street wall which holds the iron gate and a portion of the retaining wall in Lakeland Park near the public swimming area.
Pierce Smith is editor of the Cazenovia Republican. He can be reached at 434-8889 ext. 338 or editor@cazenoviarepublican.com.
Vote on this Story by clicking on the Icon