Wampsville — On the morning of June 21 at Madison County Courthouse, Syracuse-based lawyer Emil Rossi filed a motion to dismiss the case against Brian H. Tait, director of Tait Funeral Home Inc. in Cazenovia, on the grounds that Tait's actions did not indicate a lack of consent, although they could be considered "deceitful seduction."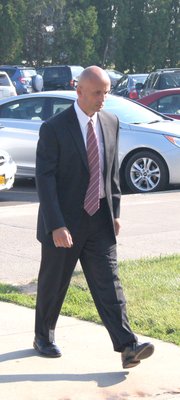 In December, Tait plead not guilty to seven misdemeanor charges, including five counts of third-degree sexual abuse, one count of forcible touching and one count of endangering the welfare of a child, stemming from a New York State Police investigation in October.
According to State Police Captain Mark Lincoln, Tait told funeral home employees physical examinations were a condition of their employment as well as a safety precaution, to ensure they weren't allergic to substances involved in the embalming process such as formaldehyde.
The lead prosecutor, Chenango County First Assistant District Attorney Stephen M. Dunshee, said he doesn't expect the charges to be dropped.
A pre-trial conference is scheduled to take place July 6, with the trial beginning July 16.
Rossi suggested a Huntley hearing be held before the trial commences, to examine the admissibility of evidence gathered by investigating state troopers during a tape-recorded interview at the funeral home in October
Otsego County Judge Brian D. Burns said in the coming week he would schedule a pre-trial hearing, possibly also for July 6.
Dunshee said the defense counsel would be able to suppress the statements made by Tait only if they were made after his arrest.
Burns and Dunshee were assigned to the case after Cazenovia Town Justice Timothy Moore and Madison County District Attorney Bill Gabor recused themselves from the case last year.
Pierce Smith is editor of the Cazenovia Republican. He can be reached at 434-8889 ext. 338 or editor@cazenoviarepublican.com.
Vote on this Story by clicking on the Icon