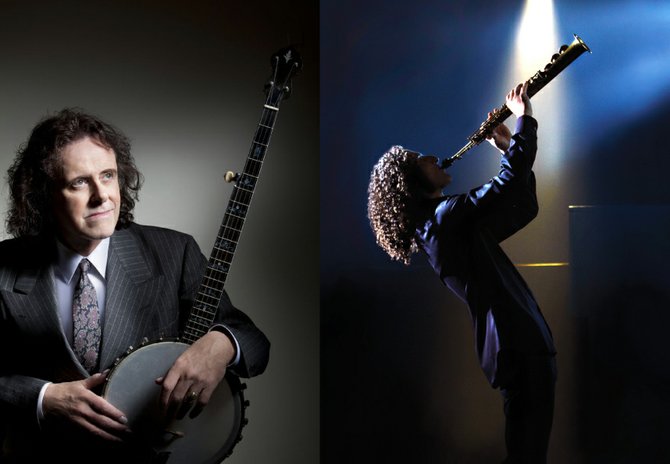 continued — Kenny G returns
Soprano saxophonist Kenny G returns to the festival after making a messianic appearance at the 2009 edition at Onondaga Community College where he performed for more than 30,000 listeners.
Born Kenneth Gorelick 56 years ago in Seattle, Kenny G is the biggest-selling instrumental musician of the modern era, with global sales totaling more than 75 million albums. "Songbird" was the breakout hit from his 1986 LP, "Duotones," a disc that went on to sell a stunning 28 million copies. "Songbird" still flies high. The tune was revived by Audi for an automobile commercial televised during 2011's Super Bowl XLV.
Donovan inducted
"Sunshine Superman" was the first major American hit for Donovan Leitch, the 66-year-old singer songwriter from Scotland who was inducted into the Rock'n'Roll Hall of Fame on April 14. The catchy composition reached the top of the Billboard Hot 100 and subsequently became the title track of the tunesmith's third LP.
The Rock'n'Roll Hall of Fame nomination credits Donovan with "singlehandedly initiating the psychedelic revolution with his album 'Sunshine Superman.'" Jazz Fest newcomers include singers Gregory Porter and Cyrille Aimee and guitarist Diego Figueiredo.
Global appeal
The 30th annual festival has a decidedly international flavor with artists from France (Cyrille Aimee), Brazil (Diego Figueiredo) Austria (Harri Stojka's Hot Club of Vienna) and Scotland (Donovan).
America will be well-represented by smooth jazz king Kenny G, Greg Porter, Billy Vera and his 17-piece featuring a Syracuse horn section led by saxophonist Joe Carello, original Allman Brothers Band percussionist Jaimoe and his Jasssz Band and five-time Austin Music Award-winning funksters Mingo Fishtrap.
The Average White Band, the classic funk band from Scotland, will conclude the festival at 9:30 p.m. Saturday followed by a fireworks show sponsored by Price Chopper and produced by Pyrotecnico.
Admission is free; bring your own chair.
Russ Tarby is a freelance writer for the Eagle Bulletin. Reach him at russtarby@netscape.net.
Vote on this Story by clicking on the Icon