Manlius — Manlius Police continue to search for the man who "test rode" a valuable bike from the Bike Loft East store in the village of Manlius and never came back.
The man entered the bike store at 119 W. Seneca St. Sunday and asked to test ride the 2012 BMC Race Machine bicycle valued at $5499.99., store employees told police. After riding it once around the parking lot, he asked employees to adjust the handlebars before getting on the bike for a second time and riding off, police said.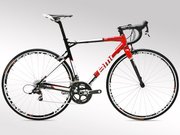 The bicycle is said to be rare and possibly one of only three of its kind in the state.
Any one with information that might lead to finding the man who took off on the bike, or the bike itself, is asked to call Manlius Police Officer Ben Kapusta at 682-2212. To make an anonymous tip, call 682-TMPD or email tips@manliuspolice.org.
Vote on this Story by clicking on the Icon