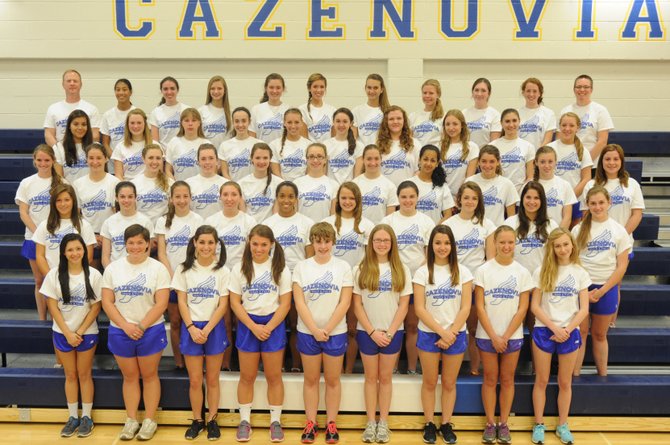 Cazenovia — The Cazenovia girls track and field team gathered on June 5 at the Lincklaen House to celebrate their record-setting 2012 season.
The Lady Lakers brought home their third consecutive Section III, Class B and OHSL Liberty Division titles this spring and earned eight medals at the NYS Championship Meet to cap the most successful campaign in program history. Among the medal winners was Paige Biviano, who became Cazenovia's second individual state champion with a record-setting victory in the pentathlon.
The Lady Lakers' attack on the school record book was unrelenting this spring as they set 10 all-time records among the 23 events for which records have been kept during the program's 40-year history. Biviano led the way, not only breaking the pentathlon record (3,143 points) but also setting new marks in the 100-meter hurdles (15.38 seconds) and long jump (17-4) along the way. She also led off the fastest 4x100 meter relay in school history (50.35 seconds) as she teamed up with Ashley Kent, Jillian Vogl and Ashley Winn. Anna Schultz successfully subbed for Biviano at States as the Lakers won silver.
Winn set new marks in both the 100-meter (12.16 seconds, just .08 from the Section III record) and 200-meter (25.40) as she medaled in both events at States. Vogl also set a new mark for the 400-meter in her medal-winning performance at States (57.77). Caroline Marshall broke the school's oldest surviving running record, eclipsing the 1,500-meter mark set in 1994 (the year she was born) with a time of 4:44.59. She also set a new mark in the mile (5:11.79). Jeanette Cudney and Rae Tobey both broke the 2,000-meter steeplechase record, with Cudney setting the new standard at 7:35.37.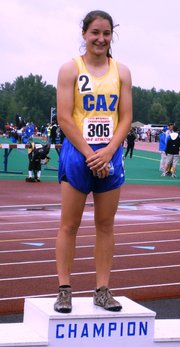 The 2012 Lakers won numerous personal honors including individual or relay sectional titles in seven events, first team all-league status in seven events and second team all-league recognition in five more events. They achieved 42 sectional-qualifying performances in 18 events and 20 state qualifier performances in 14 events.
(Continued on Next Page)
Prev Next
Vote on this Story by clicking on the Icon