My mom once told me, "We come into this world alone; we go out of it alone."
I had to correct her. Why? Because I'm a twin.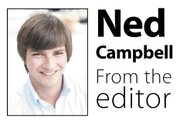 It's ironic that being a twin makes me unique — but it's true. Most people do not have a sibling their exact same age to grow up with; most people do come into this world alone.
But twins like Clare and I have always been a rarity.
Or so I thought, until the news that Fayetteville-Manlius High School graduated seven sets of twins this year came across my desk.
For me, this was great news. It's comforting to know there are 14 high school seniors just at F-M who have likely all been asked, more times than they can count:
What's it like having a twin? (My response to this question usually goes something like this: It's like having a sibling who's the same age as you.)
Do you like being a twin? (It's all I've ever been. Are non-twins ever asked, "Do you like being a sibling?")
Who's older? (I am. By two minutes. Or it might be 10. We're not really sure, but I'm definitely older.)
Where's your twin? (I don't know. We're not attached at the hip.)
Do you have ESP? (Really?)
Are you identical or fraternal? (Fraternal. And yes, even though Clare and I are sister and brother, we do get asked this a lot.)
But to answer that first question more seriously, having a twin is like nothing else. I was close with my sister growing up, but the competitive nature of school pushed us apart. When she made it into the National Honor Society her junior year, I didn't. When I was on the varsity soccer team, she had turned her back on the sport because, well, high school girls can be cruel.
(Continued on Next Page)
Prev Next
Vote on this Story by clicking on the Icon